The One is not Enough Team had the privilege of interviewing one half of UK based The I'm Tired Project, Paula Akpan, to discuss the project that has delved into the  world of micro-agggressions, assumptions and stereotypes. Using art, creativity and personal stories, The I'm Tired Project aims to provide 'a safe and honest platform (for participants) to be both vulnerable and empowered'.
What is The I'm Tired Project?
The "I'm Tired" Project is a campaign which uses the human body, photography and written word to highlight and increase awareness around the impact of stereotyping, assumptions and micro-aggressions. While it started out as a strictly social media project, it slowly turning into a community outreach project as we've conducted workshops in schools and universities as well as two exhibitions so far.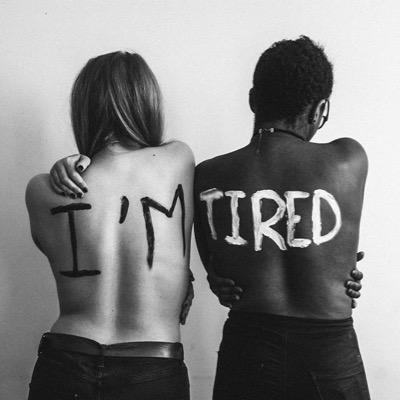 Why did you start The I'm Tired Project?
Harriet is a white woman and I am a black queer woman so we've both experienced our fair share of micro-aggressions and stereotyping and last year, we reached a point of frustration with the lack of representation and awareness around such issues – which was paired with the fact that we were graduating and suddenly had a lot of free time on our hands – and decided we wanted to channel the frustration into some sort of creative project. We also found that a lot of feminist groups we were a part of were just not intersectional.
What are the biggest lessons you have learnt from doing the project, either in the organisation of it or the messages that people have shared?
Despite considering ourselves to be fairly socially engaged, I think one of the biggest lessons has been that there is always so much more to learn and be made aware of. I know it sounds relatively basic but I think it can be quite easy to lose sight of that. There have been so many times when a statement has been sent through and I've thought to myself "Why has that never occurred to me?" For example, a trans man once wrote about their difficulty finding men's shoes in small sizes and despite the fact that it is so simple, it really took stuck with me as one of those minute and powerful details that can be so easily overlooked.
Are there any race related 'I'm Tired' contributions that you related you?
A black woman did a statement that read "I'm tired of self-policing in order to avoid stereotypes" and spoke about the difficulty of trying to avoid being labelled "ratchet" or how it feels to be singled out simply on an account of your race i.e. being asked if you can twerk because you're a black woman. It completely resonated with me personally because I've spent much of my life juggling with my blackness, sometimes not wanting to appear "too black" or "uncouth".
What are your hopes for the future of The I'm Tired Project?
We plan to continue sharing pictures and stories on our page as well as continue to travel with our exhibitions and workshops and represent as many people as possible!
The I'm Tired Project covers race issues and the One is not Enough campaign is all about representation of British BAMEs in the media and school curriculum. Why do you think representation is important in the British media and school curriculum?
Representation in the school curriculum is important because I can tell you all about white writers and white people who contributed to history but, bar slavery and the civil rights movement, you're not taught about the contributions of black people. You're taught about black oppression and little else. For many years, I had no idea that there were so many black inventors because they're simply not acknowledged. This is reflected in media. You rarely see diversity unless it is somehow related to oppression or the black individual somehow being made the villain, no matter what. Representation is important because, black people, particularly black youth, need to be able to see that it is possible to be black and to succeed; it's important for us to know that the two are not mutually exclusive.
How can people get involved with The I'm Tired Project?